ASLO 2021 Aquatic Sciences Meeting
SS32 - Name that species: Toward a new global view of species diversity of marine zooplankton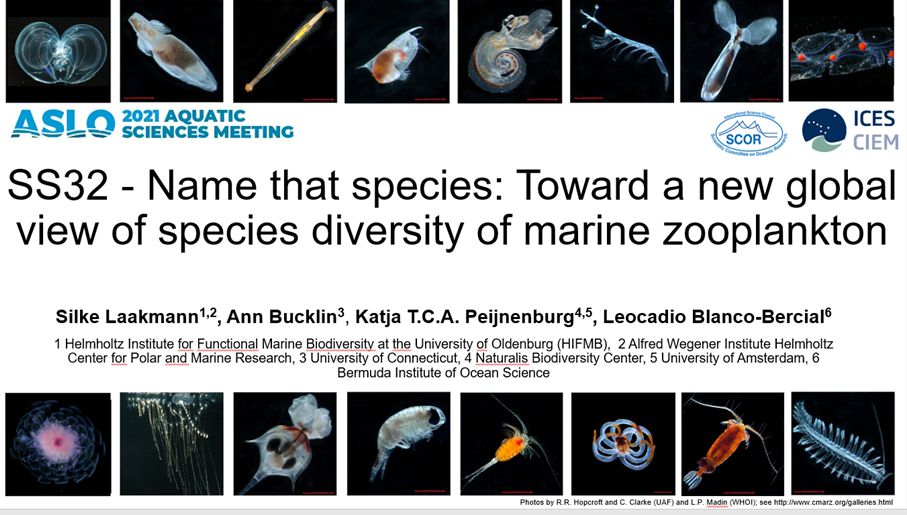 The ASLO ASM Meeting was held virtually, June 22-27, 2021 (https://www.aslo.org/2021-virtual-meeting/).
SCOR WG157 MetaZooGene sponsored a special session, "Name that species – Towards a new global view of species diversity of marine zooplankton" (SS32), chaired by WG157 members Silke Laakmann (Helmholtz Institute for Functional Marine Biodiversity, Germany) and co-chairs Leocadio Blanco-Bercial (Bermuda Institute of Ocean Sciences, Bermuda), Katja Peijnenburg (Naturalis Biodiversity Center, Netherlands), and Ann Bucklin (University of Connecticut, USA).
During the special session, two of the invited speakers were also SCOR WG157 members: Todd O'Brien (NOAA Fisheries, USA) and Astrid Cornils (Alfred Wegener Institute, Helmholtz Centre for Polar and Marine Research, Germany).
The virtual session was well attended, starting with a quick overview of each authors presentation or poster, then followed by fruitful discussions on molecular techniques for zooplankton identification.